The most spectacular and outstanding event of Siberian summer begins with two competitions for the "MIRA" World Music Award and the "MIRA" Craft Award. We encourage professional and amateur performers and crafters to join the Festival and take a chance to win one of the awards. .
"That is competitions that make the "World of Siberia" a unique project", says Elena Mironenko, the Minister of Culture of the Krasnoyarsk region. "Festival spectators can not only attend concerts of the world music masters, but also watch the performances of unique folk groups. There are lovable family ensembles that pass on their singing traditions from one generation to the next one, as well as professional musicians and vocalists that are graduated from the Gnessin State Musical College."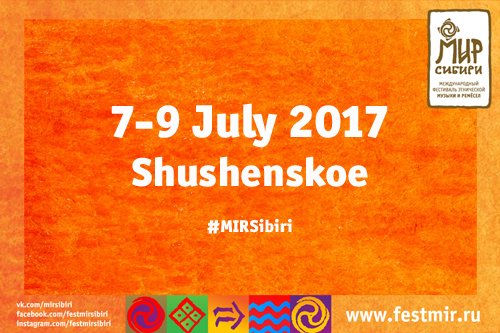 We receive complete applications from January 15 through March 31, 2017. Nominees of two competitions will be determined after the first elimination round. They will be invited to take part in the second elimination round at the Shushenskoye village. The second elimination round includes three days of auditions at the Festival's main stage and an exhibition of the craft works of Nominees. Winners of the "MIRA" World Music Award and the "MIRA" Craft Award will get unique prizes – "MIRA" bronze bowls.
Provisions of the "MIRA" World Music Award Competition of the International festival of World music and crafts "World of Siberia"
Provisions of the "MIRA" Craft Award Competition within the International festival of world music and crafts "World of Siberia"